Chromosome Analysis on Products Of Conception (POC)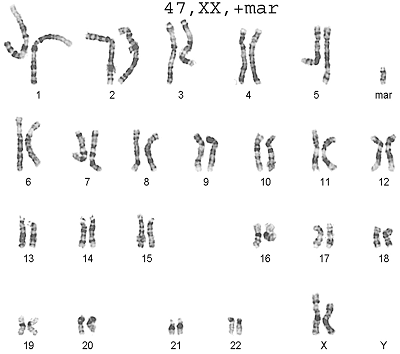 Tissues from products of conception are cultured to produce metaphase cells for G-banded chromosome analysis. Examination of 10-20 metaphases is routinely performed and additional metaphases will be studied when indicated. At least 5 cells are fully analyzed with 2 or more G-banded karyograms created by computer image analysis on each patient.
Indications For Chromosome Testing
Fetal demise
Miscarriage
Fetal malformations
Intrauterine growth retardation
Confirmation of abnormal prenatal chromosome abnormality
Preferred Specimen Types
Placental villi
Skin biopsy from under arm or inner thigh
Internal organs: liver, lung, kidney, thymus
Fetus: please take a biopsy (whole fetus samples are not accepted)
Specimens fixed with formaldehyde or frozen are unacceptable
To establish cultures for karyotyping, tissues must be obtained as fresh as possible and without contamination. Carefully washing of the tissue samples in sterile saline is required prior to placing them into cell culture media or a balanced salt solution (such as Hanks or sterile saline) to avoid bacterial contamination. Obtaining tissue samples from more than one site can increase the yield and increase the probability of detecting mosaicism. In cases of intrauterine fetal demise, placental villi may yield better cell growth than fetal tissue samples, which may not grow due to maceration related to the fetal demise.
Specimen Requirements and Requisition Form
Use Adobe Acrobat to print the PDF forms.